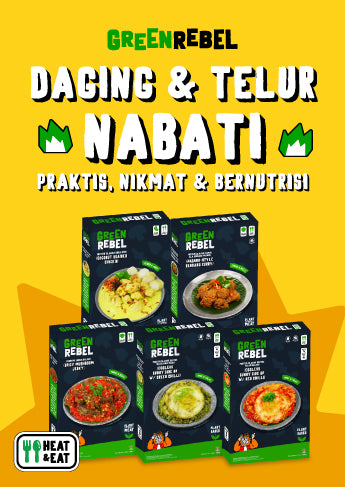 NOW ENJOY PLANT BASED MEAT & EGGS - ANYTIME, ANYWHERE!
Just heat it up and enjoy! Now you can indulge in a healthy plant based meals anytime and anywhere! It's perfect for a busy day when you don't have time to cook or when you are outdoors travelling or on the go. One pack of Green Rebel's plant-based meat and egg is enough for 2-3 servings and can be enjoyed with warm rice and sautéed vegetables, salad or wraps, pasta or noodles - the possibilities are endless.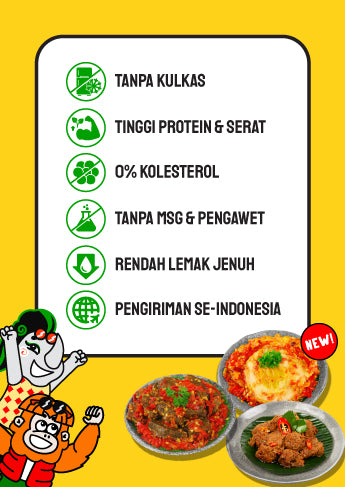 Frequently Asked Questions
Q: Are Green Rebel products safe to consume?
A: All Green Rebel products are completely safe to consume. All products are high in proetin & fiber with 0% cholestrol. Some of the proucts contain nuts. If you are alergic to nuts please check the allergen info available product packaging and product pages the website. Note - all our products are manufactured in a facility that processes nuts.

Q: How is it that these products don't need to be refrigerated?
A: All Heat & Eat products by Green Rebel are packaged with advanced technology which extends it's shelf life without refrigeration. It's ready to eat right out of it's packaging. It's simply just "Heat & Eat"

Q: Is the Green Rebel product considered processed food?
A: Green Rebel products are minimally processed using natural ingredients. Our Chick'n and Beefless selections are processed using advanced food technology to create the taste and texture similar to animal protein. 

Q: Are Green Rebel products organic?
A: We use a combination of natural and organic ingredients.

Q: Why plant based protein?
A: Plant-based proteins contain zero cholesterol, less saturated fat, and much less natural resources compared to animal products. By consuming a more plant-based diet, you are also doing the environment a huge favor by reducing water & land usage by up to 93% and greenhouse emissions by up to 90%.
Shipping & Delivery
Q: Which locations & addresses can you deliver to? 
A: All Heat & Eat products can be delivered all over Indonesia through our shipping partner J&T Express.

Q: How long does it take for you to process & deliver my order?
A: Delivery time varies, depending on your location, but usually custom shipping takes 36 - 48hrs to arrive

Q: How are the products handled while shipping?
A: All Heat & Eat products are stored and handles at room temperature. The product packaging uses advanced technology hence the products don't require cold storage.

Q: How can I return or exchange my product? 
A: Returning a product is not possible unless in extreme cases of damaged products. In such cases exchange or refund can be processed by reaching out to us via hello @greenrebelfoods.com or via Whatsapp on 0818-818-170.